Our services
Waterproofing
In the early 2000s, tighter regulations and improved waterproofing systems let to a rise in popularity of basement conversions and developments in the UK. The use of cavity drain membranes gained traction due to their accessibility for repair and in case of issues, becoming standard practice in the construction industry. A significant court case, Outwig Construction v. Thomas Weatherald, played a pivotal role in shaping British standards and regulations for sub-structural works.
Our Waterproofing Service includes:
Fully Qualified: Below ground CSSW surveys and designs.
Fully Qualified and Insured: All structural waterproofing works.
Guaranteed TYPE-A & TYPE-C Installations by us, approved contractors.
Ongoing routine maintenance of drainage channels and the pumps.
Below is a full cross section of an internal 'Type C' Cavity Drainage Membrane System in accordance with BS:8102:(2009)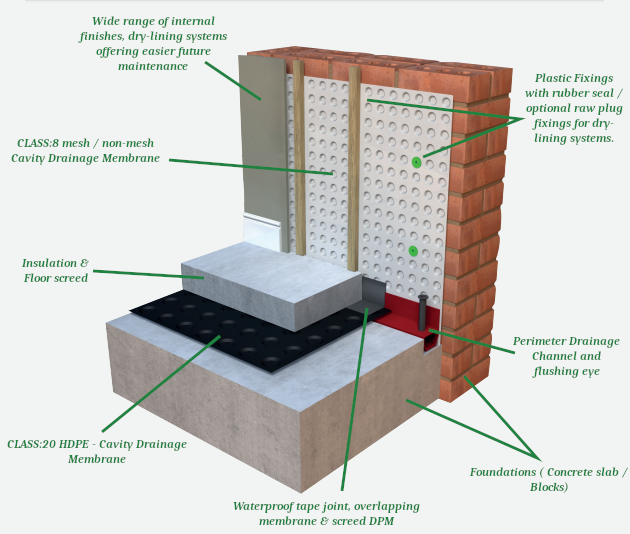 Waterproofing A Structure
When selecting waterproofing in today's market, care must be taken to look at all implications of issues surrounding the property. The popularity of cavity drain membranes is attributed to their accessibility for repairs. The choice of waterproofing method depends on the required level of protection, as outlined in BS: 8102:(2009). 'Type A' applied/barriers can be used alone or combined with 'Type C' system for habitable spaces, however if some dampness may be tolerated then the use of 'Type A' applied product could be relied upon. Not every situation requires a complete 'Type C' internal cavity drainage system.
Wessex H&R surveyors and technicians are fully qualified to the highest standard with the PCA and have many years of experience in the industry, whatever grade of protection needed for your basement or project, our knowledge with the control of water below ground and the systems we install will make it possible.
View our case studies to see a more extensive look at our past waterproofing contracts! If you have any questions, or are interested in having a survey in relation to anything that has been mentioned above do not hesitate to contact us.